2020 Autotrader Best New Cars: The All-New 2020 Hyundai Sonata and 2020 Hyundai Palisade
Autotrader has announced the 12 best-in-class vehicles that every shopper should experience from the driver's seat. This year making the list is not only one, but two vehicles from the Hyundai Lineup! The 2020 Hyundai Palisade and that 2020 Hyundai Sonata.
For the 2020 model year the Hyundai Sonata got a completely stunning refresh with a new roomier premium interior and a futuristic exterior design. As well as a great selection of standard tech that only get better as you upgrade to higher trims. The new design and layout combined with the amazing selection of new tech for both convenience and safety is the right step that Hyundai is taking into the next generation of vehicles.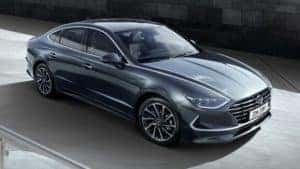 Hyundai also took their game to the next level with the introduction of the 2020 Palisade emerging as a modern automaker delivering style, features and value, all in one attractive package. This new model is Hyundai's Mid-Size 3 Row Seater SUV that dabs into premium luxury while staying affordable.
Both vehicles are all-new and come with a lot of modern features. To learn more about what the All-New 2020 Hyundai Sonata or 2020 Hyundai Palisade has to offer, schedule a test drive with Hyundai of Louisville today by calling (502) 214-4200 or check out our inventory online by clicking HERE!