Hyundai Introduces the First-Ever IONIQ 6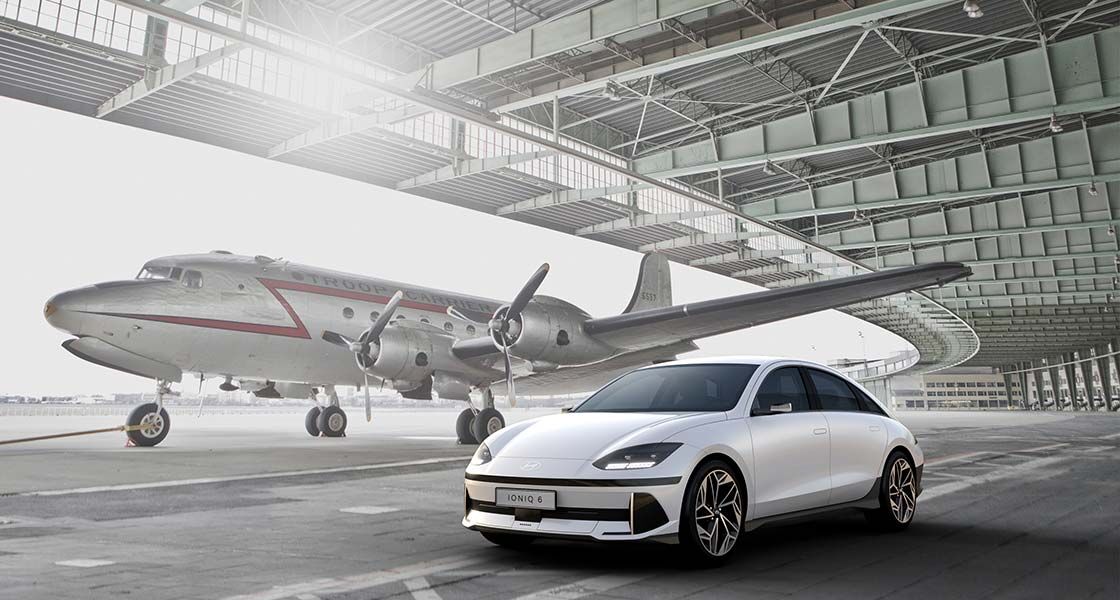 Hyundai Introduces the First-Ever IONIQ 6
Hyundai Dealer Near Me
It all began with the hugely successful IONIQ 5. Now the evolution of the IONIQ family continues with Hyundai's streamlined newcomer, the 2024 IONIQ 6. Inside the sleek coupe-like silhouette, you'll find our most cutting-edge technology and safety innovations. The IONIQ 6 is built off Hyundai's Electric Global Modular Platform to create an exclusively for the IONIQ family. In addition, the IONIQ 6 uses an electric powertrain that makes driving both responsive and fun. With the IONIQ 6, the future has never looked so good.
Propulsion of the 2024 Hyundai IONIQ 6
The IONIQ 6 will share a platform with the IONIQ 5, with its powertrain mirroring the five. This means base models will be powered by a single electric motor powering the rear wheels, with higher trims offering a dual-motor version providing all-wheel drive thanks to front and rear electric motors. Horsepower will range between 168 hp and 320 horsepower. As a result, the IONIQ 6 will easily deliver 300 miles of driving range on one charge. The IONIQ 5, with its larger battery pack, is rated to go 303 miles on one charge, and the IONIQ 6 will receive this same battery. And with its more aerodynamic shape, it will likely achieve even better ratings.
Design Inspiration for the IONIQ 6
The exterior of the Hyundai IONIQ 6 stands out from the crowd in a big way. Hyundai drew inspiration from its Prophecy concept. The front is somewhat traditional but blends the Parametric Pixel LED lighting concept beautifully with contemporary design cues. The back has shades of VW Beetle in its design while carrying over the pixelated theme. The twin ducktails are a unique element that appears refreshing. The culmination of these various elements is not only pretty but efficient. With smart aero including a flat floor, active air flaps, and wheel gap reducers, the IONIQ 6 achieves a remarkable drag coefficient of just 0.21.
Interior Hideaway of the All-New IONIQ 6
IONIQ 6's cocoon-shaped interior is a comfortable hideaway and personal space, replete with practical features and sustainable materials to facilitate a conscious, eco-friendly mobility experience and lifestyle. In line with IONIQ 6's Ethical Uniqueness theme and inspired by today's eco-conscious consumers, various sustainable materials are applied to the exterior and interior of IONIQ 6. Like its cousin, the IONIQ 6 will offer a modern and minimalist aesthetic within the cabin. In addition, the flat floor adds to the feeling of spaciousness inside, and there's ambient lighting to provide some color.
The Most Technologically Advanced Hyundai Yet
A 12.0-inch digital gauge cluster and a 12.0-inch infotainment screen will be offered on the 2024 IONIQ 6. The six will most likely use the same software as most Hyundai models. This infotainment system incorporates BlueLink for connectivity functions and links smartphones using either Apple CarPlay or Android Auto.
VisitHyundai of Louisville for All Your Hyundai Needs
If you want to stay in the know on all things Hyundai IONIQ 6, then Hyundai of Louisville is the dealership for you. We are proud to be a family-owned business that delivers exceptional customer service. We strive to provide our automotive consumers an excellent shopping experience while providing consumer benefits above our competition. And we want these benefits to be delivered by trained and experienced employees that focus on providing excellent customer service.